Jim St. James is an American singer, guitarist and songwriter born in Gary, Indiana.
He has charted on the Roots Music Report twice in his career, once at #1 for his song 'Caroline' which held the position for two weeks. His original song about the life of Amelia Earhart was featured on the official website of the famous aviatrix for several years. St. James is a BMI writer with an extensive catalog in the folk, blues, and Americana genres. His strong, clear vocals are admired by many, as are his various unorthodox guitar playing styles.
Jim no longer calls the road home, but lives with his two cattle dogs in an old Victorian home in LaPorte, Indiana and performs frequently in NW Indiana, SW Michigan and the Chicago suburbs with two tours a year along the Florida/Alabama gulf coast and an annual appearance at the Frank Brown International Songwriter's Festival in Perdido Key, Florida. 
~
In March of 2021, St. James and long time friend / bass player Mike Wood made plans to expand their duo to a 3 piece with Dean Rouch auditioning on fiddle. Unfortunately, before the audition even  took place, Mike contracted Covid-19 and passed away due to complications of the virus. He was 55 years old. In April of 2021, after considering retiring from full-time, live performance, St. James called Dean and the duo has been at it since, with Mikey always onstage in heart, mind and spirit.
~
Dean Rouch is an exceptional multi-instrumentalist and songwriter. He's performed with multiple national acts going back several decades and has released a huge catalog of his own original music over the years. Once you witness his approach to the fiddle, you'll NEVER forget him!
~
The duo are members of the Americana Music Association. 
~
Jim St. James & The Hard Core Troubadours.  We encourage you to catch a show soon!
~
Booking inquiries can be sent to info@jimstjames.com
or direct at (219)379-2193
Music is available at www.jimstjames.com/music
"Jim St. James, a great American voice, mixing country, Americana and ballads."
Monterey Court Studio Galleries and Café
Tucson, Arizona
"He launches into an original song, gliding into lyrics in a voice that first hits the ear as a blend of Jimmy Buffett and Jim Croce — something about those Jimmys and Jims for this St. James — before shifting into cruise control with his own homey campfire-side tenor. His fingers strum chords on strings between palm-thumps on the guitar's wooden body, keeping impeccable time like a muted conga."
Jeff Harrell - South Bend Tribune, South Bend, Indiana

Contact:
Email: info@jimstjames.com
 
http://www.jimstjames.com

Some of the fine venues that have booked
Jim St. James
St. Julian Winery
Marina Shores Yacht Club 
Speakeasy at the Spa 
LaPorte Columbian Club 
Lillian Front Porch
Goblin and the Grocer
Zorn Brew Works Company
Barker Pub
McGinnis Pub
The Farmhouse Restaurant @ Fair Oaks Farms
Burn Em' Brewing
All Season's Sports Bar
Matey's Bar & Restaurant
Quaker Steak and Lube
Semento's of Valparaiso
Elements Wine Bar
Carpenter Creek Cellars
County Line Orchards
Plymouth Farmer's Market
South Bend Farmer's Market
Fenwick Farms Brewing
Casey's of New Buffalo
Gt's on the Bay, Orange Beach, Alabama
The Quest
Blue Point Oyster Bar
Carpenter's Creek Winery
Hunters Brewing
Ivy's Bohemian House
The Boardwalk Bar & Grill
Haymarket Taproom
Dick's Bar
Blue Top Drive In
Duffy's Place
Spirit's Lounge
Java Jim's Music Theatre
Florabama Lounge , Perdido Key, FL
Lulu's at Home Port Gulf Shores, AL
The Shed BBQ & Blues , (Ocean Springs, MS)
Old 27 Grill
The Etropal Restaurant and Lounge
Spire Farm-to-Fork Cuisine
Windmill Market
Treehouse Shine Bar
Wolfe Stock
Golf Club of Granger

Michigan City Farmer's Market
The Friendly Confines
Second Saturdays, LaPorte, Indiana
4th Street Theatre
The Hangout
Elevate Coffee

The Julep Room
Sunflower Festival
Happy Harbor on the Line
Monterey Court Studio Gallery Café
Richard's Louisiana Café
Frankie's Other Place

Arizona American Italian Club
Temple News Agency
St. Mary's University
Thaddeus Gallery of LaPorte, IN
The Cookery
5 Star Dive Bar

Lulu's Coffeehouse
The Electric Brew
Ringers Sports Bar
Casey's Lanes and Lounge
Dennis Smith Band Shell at Fox Park
Art's in the Park
Westville Pumpkin Festival

Buck's Warehouse Pizza and Pub
Knuckle Heads Bar
The Silver Palace
5th Street Deli
The Eclectic Circle
The Friendly Confines

Helen's Bar
Outriggers
Nashville Palace , Nashville, TN
The Fret House Café , LaPorte, IN
Planet Java , LaPorte, IN
The Game Room Arcade and Coffee House

Tacky Jack's Gulf Shores
Tacky Jack's Orange Beach
Rhythm and Ribs
Golf Club of Granger
Chocola Tree Organic Café , Sedona, AZ
Tin Top Restaurant and Oyster Bar

High Tide Oyster Bar and Music Venue
Main Street Coffee House
Huck's Cove Marina Bar and Grill
Union Coffee House
Music in the Park Three Oaks
Butch Cassidy's Restaurant

Lillian Café and Bar
Le Chalet French/Swiss Restaurant and Tavern
South Bend Farmer's Market
Fireside Tap and Grill
Lakeshore Lanes and Tavern
Intermission of Pensacola

The Pink Pony
The Oar House at Bayou Pico
Ryan's Pub
National Shrimp Festival - East Stage , Gulf Shores, AL
National Shrimp Festival - West Stage , Gulf Shores, AL
Frank Brown International Songwriter's Fest , Perdido Key, FL (23 years)

Taltree Arboretum and Gardens , Valparaiso, IN
Merchants Coffee House
Serda's Coffee Company
Tipsea's Restaurant and Bar
Ambassador Charlie Ray Festival , Nashville, TN
The Reef

Rafter's Restaurant and Sports Bar
The Jellyfish Bar
Pirate's Cove
Houlihan's Restaurant and Lounge
The Pub of Fairhope
Dizzy Bean Coffee House

The Purple Parrot , Key West, Florida
Knight's Key Resort of Marathon Key , Marathon Key, Florida
Captain Tony's Key West, FL
Beach Cite Studios
Internet Café and Bakery , Krakow, Poland
The Oyster Bar of Pensacola

Junefest Music Festival - 3 years , Pensacola, FL
Lakeville Folk and Blues Festival , Lakeville, IN
Aurora's Restaurant and Lounge
Shamrock Rose and Thistle , Mobile, IN
Sully's Place of Pensacola, FL
Buddy's Lounge

Quincy's Café and Coffee House
Plymouth Farmer's Market
Tequila Bleu Mexican Restaurant and Lounge
Gelato Joe's Italian Restaurant and Tropic Ice Deck Bar
Hopjack's of 9 Mile Road , Pensacola, FL
Vino 100 of Phoenix, AZ

Firefly Tavern and Restaurant
The Courtyard @311
Monroe's Crossing
Rare Earth Pizza and Lounge
Island Time Daiquiris
Mickey McGrew's Irish Pub

Red, Hot and Blues Bar
Paul Henry's Art Gallery
Cullman Campground
Gibson Guitar Gallery and Café , Nashville, TN
Checker's Coffee House
Douglas Corner's Café Nashville, TN

The Bluebird Café, Nashville, TN
Lillian Community Club , Lillian, AL
Dragonfly Café , Los Angeles, CA
Broken Spoke Saloon Nashville , Nashville, TN
The Commodore Lounge , Nashville, TN
French Quarter Café , Nashville, TN

The Boardwalk Nashville
Opryland Hotel Radio Show, Nashville, TN
The Harbor Grand Hotel
Fiddler's Hearth
Plymouth Moose Lodge Family Center
Market Square Tap and Dine

Journeyman's Distillery
The LaPorte Yacht Club
Fibber Magee's Restaurant and Tavern
Phoenix RV Resort Campground
Cobalt the Restaurant
The Cobalt Café (Cali)

Hotel Indigo Nashville, TN
Pensacola Blue Wahoo's Baseball Stadium
VIP Lounge
Quayside Gallery of Pensacola
LaPorte County Fair, LaPorte County, IN
The Silver Moon

Cornerstone Kitchens and Bar
Goodtime Charley's
Cravings Bistro & Pub
Gulf Shores Resort
Fox 10 News Mobile - Pensacola - Fort Walton Beach
Foley Farmer's and Fisherman's Market

Characters Songwriter Bar and Restaurant
Tiki Beach Pub and Grill
Ginny Lane Bar and Grill
Hazel's Family Seafood Restaurant
Live Bait
The Compleat Angler

Sun Place Else
Sun Place Else II
El's Kitchen and Bar Chicago, IL
Tippy's Lounge
Seville Quarter Pensacola
Hub Stacey's Restaurant and Bar

Eagle Coffee Pub
Wildhorse Saloon Nashville
A Taste of Michigan City
Dewey Cannon Park
Sunnyland Satsuma Orange Groves
Kelly Plantation Home Owners of Destin, FL
Legends of Pensacola, Florida
~
European and Canadian Shows:
 Toronto, Windsor, London, Ontario, Canada
Birmingham England, France, Italy, Austria, Poland, Czech Republic
~
100s of open mics, all ages shows, coffee houses and benefit shows performed. 
~
Jim's first live performance was at SS Peter and Paul grade school's talent show in Merrillville, Indiana in 1974. His band came in 2nd place with two original songs. (and two chords..) 
It was onward from there...
🎶🎸🎶
 
---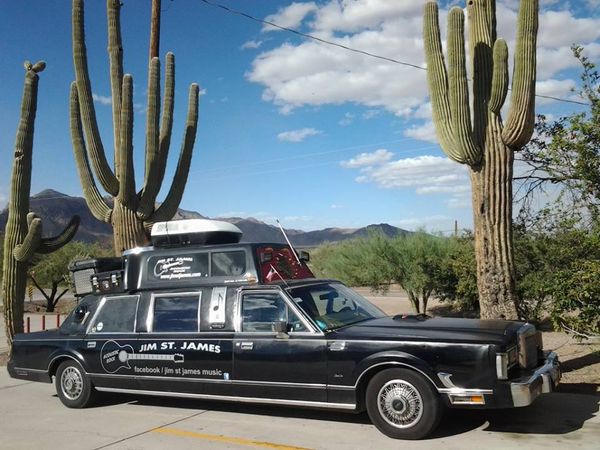 You are visitor number: 201879